Charterhouse win award for Best Digital Transformation Project in the Private Sector – SMB at the UK Cloud Awards.
Our winning entry was for our DocuWare project with Stephen James Group which started them on their Digital Transformation Journey.
Now in its 5th year, the UK Cloud Awards showcase leading vendors, customers and individuals who set the benchmark for innovation and technical excellence within the UK Cloud Market. The ceremony rewards the best Cloud providers and projects from the past year which is decided by an expert panel of independent judges.
We are thrilled to receive this recognition for our project with The Stephen James Group – it was a pleasure to work with Clive Copeman who was tasked to roll this out internally. We are continuing to help The Stephen James group on their Digital Transformation Journey.

Jonathan Goodman

Digital Transformation Manager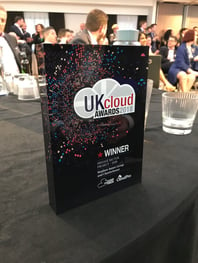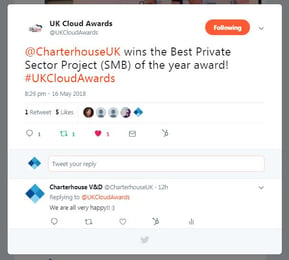 Stephen James Group had centralised their accounts and administration functions; but the processing of deal files was still a labour-intensive task. One that was difficult to audit effectively and generated large volumes of waste paper. It was time to transform the business with Document Digitalisation.
We are thrilled to receive this recognition for our project with The Stephen James Group – it was a pleasure to work with Clive Copeman who was tasked to roll this out internally. We are continuing to help The Stephen James group on their Digital Transformation Journey.

Jonathan Goodman

Digital Transformation Manager