Last week I visited two Trusts, who have over 6,000 staff between them. The conversations centred around Unified Communications (UC), something that's no more complex than the name suggests.
In simple terms, it's all about helping people (nurses, doctors, staff and patients) to communicate with one another better.
In slightly more technical terms, it is all about the integration of communication tools, with the main aim of optimising business processes and improving collaboration and productivity across the enterprise.
In today's world, communication is everything.
It determines if a patient goes home on time, whether a bed is freed up for another critically ill patient, or medical care is given on time and many more time-critical events.
Is it any wonder that the CIOs, Network Managers, Telephony Managers and CTOs across the NHS are talking to me? If the NHS could unify the way they communicate, the potential for efficiencies and savings to be made is huge!
The exciting thing is that this isn't a new technology – It is tried and tested across many industries and businesses throughout the UK and it works. It is simple to use and easy to learn.
It just comes down to the right technology.
What makes it even more appealing is that the majority of NHS Trusts already have the foundations in place to get what they need without spending too much extra money.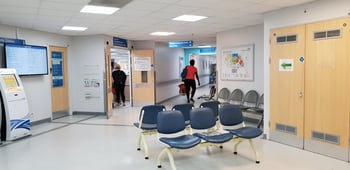 As an example, one of the Trusts I visited have invested heavily in an on-premise Mitel platform. The next stage for them is simply to upgrade their licences and they can get access to the full UC suite, which will enable staff, doctors and nurses to download an app onto their device and communicate with one another. They can see if their colleagues are available, in a meeting or with a patient and they can communicate accordingly. They can set up video conferences with patients and they can receive calls on any device that they are logged into. This will be their next investment and because they already have the technology in place, it really won't take much to get there.
The Lord Carter review back in 2016 estimated that a 1% improvement in staff productivity would save the NHS £280 million a year, which equates to hospitals using new working methods that would save every member of staff 5 minutes on an 8 hour shift. The ability to instant message would easily give 5 minutes a day back to staff and consultants. Their step-counters may not like it, but the benefits are countless.
Also mentioned in the report is "Bed blocking", which is estimated to cost the NHS over £900 million per year. Nearly 1 in 10 beds are taken by someone medically classified as fit to be released. This often leaves more critically ill patients on trolleys in corridors for hours waiting to be admitted to a ward.
In many cases it is simply because the consultant allocated to sign-off the patient discharge is unavailable to come to the ward and give their physical signature. Instant collaboration between the ward nurse and the consultant could resolve this issue in seconds. Times this by 12,000 patients and the efficiencies are obvious.
Email and voicemail are fast becoming old-hat in this new world and as the NHS becomes paperless, UC has a very important part to play.
Interestingly, the other Trust that I met with this week also have Mitel Telephony in place but use Office 365 alongside it. Their plan is to focus on Microsoft Teams as their UC platform and to enable voice within this for certain users.
My role is to understand the underlying infrastructures that are already in place and to take these Trusts on a journey to getting their UC platforms up and running – whether that be Mitel, Avaya, MS Teams or a hybrid of many. I ensure that existing investment is accounted for, users are trained and that organisations have the best calling plans to connect them to the outside world to give them the greatest experience possible.
I will be hosting some NHS Forums on UC over the next few months – giving Trusts insight into the above technologies and how they work together, and giving IT Managers a chance to learn from one another. If you would like to attend, please let me know the topics you are most interested in discussing - Katie.Nicholas@cvdgroup.com.
#UnifiedCommunications #UC #NHS #Mitel #Teams