The Festive Season is fast approaching, and retailers across the country are wondering how they will survive - let alone support their customers during the busiest time of the year.
During the Covid-19 pandemic, retailers have faced a number of challenges; closure due to lockdown, staff on furlough and lack of resources. These difficulties have prohibited them from fully supporting their customers, leading to a huge decrease in customer confidence and loss of revenue.
Reaction time is key
With Christmas 2020 set to be like no other, it has never been more important for organisations to react quickly to customer requirements, make their presence known and demonstrate stability, in a market that has already been critically affected by Covid-19. Sadly, it is likely that some retailers won't survive the crisis, however organisations that embrace communication technology, as their new tool to support their customers around the clock, are far more likely to succeed.
As consumers, we are all familiar with making calls to place orders, check stock, chase deliveries and book appointments - to name just a few examples of our daily enquiries. From my personal experience, I very rarely speak to the right person the first time round, and on some occasions I've been unable to speak to anyone at all, just getting a lengthy automated message with numerous options to choose from - most of the time not relevant to my question. At this point, I'm exasperated and would rather look elsewhere.
On the rare occasion I am able to get the answer to my query first time, the organisation I'm contacting goes to the top of my list for repeat orders, a good online review and a recommendation to family and friends.
Retain Your Customers
In the spirit of retaining customers and providing a positive customer experience, retailers must offer the ability for consumers to contact them via their preferred communication method - whether that be phone, web chat or email - to ensure that their query is answered at the first point of contact.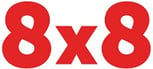 Charterhouse and our partner 8x8 help organisations to become more accessible to existing and new customers, by providing an all-encompassing, single UCaaS application platform offering; cloud voice, video meetings, audio conferencing, chat, presence, document collaboration, file sharing and contact centre. This enables staff to communicate seamlessly with their customers, regardless of the communication channel used, with the added benefit of customer analytics and reporting at their fingertips.
At Charterhouse, we would like to encourage retailers to consider having cloud communication with Contact Centre capability as part of their customer experience strategy - in order to avoid potential loss of customers and revenue.
If you'd like to know more about how we can help you to improve your customer contact strategy, book an exploratory call today to discuss your options.