As the landscape changed, and universities were forced to adapt to online learning, one of the big questions they had to face was how to offer students a value for money experience when they were no longer able to conduct face to face teaching – technology is a significant piece of that puzzle!
Technology underpins the ability to not only deliver virtual learning, but to do so in a way that is engaging for students. It isn't good enough to simply take what would be the standard, traditional outline of a lecture and put it online in exactly the same format. Universities need to be armed with the right tools to scale up from what might have been a few thousand students logging in at any one time, to tens of thousands of students logging it at once. Equally as important, universities need to provide interactive online courses that genuinely deliver a secure and rich remote learning experience; and really, it's only a cloud environment that can achieve that.
Charterhouse's answer to this? The Fusion portfolio - Connect, Collaborate, Secure
Let's focus on Collaborate...
We'll begin, before the academic year has even started, with the clearing process.
Despite this only happening once a year, the clearing process is a time period within the universities annual cycle that is incredibly important, and contact centre technology is at the heart of any successful clearing process. Those universities that are forward thinking and have adopted self service tools are already reaping the benefits of the enhanced experience this brings to the clearing process, for both students and the universities alike. Using the likes of Mitel contact centre applications and AI to blend automation with contact centre agents throughout the process, assists hugely with easing pain points and handling the huge volume of enquiries – which was especially evident in the unprecedented year of 2020.
The online learning experience using collaboration tools
How can a university ensure minimum disruption to the learning experience, when moving to the virtual environment?
This has to be through the use of collaboration tools.
With day-to-day learning now being from home, access to teachers, research material, other students and the wider community is more important than ever before. It needs to be capable of delivering all the content that's needed to create a positive learning experience - going beyond the traditional one-to-many format of lectures, to offering an environment where students can share content, interact with other students and the lecturer by showing hands, sharing screens and debating viewpoints. The same technology also enables one-to-one follow ups with the lecturer, and students are able to deliver their content via the MiTeam Meetings application, to fully engage in this enhanced experience.
Online learning that ticks those real time, engaging and interactive boxes can all be delivered through Fusion Collaborate - a set of tools that enables better communication, enriched collaboration, document sharing, remote working and video conferencing - the perfect combination for an effective online learning environment.
Integrate with Teams
If a university has a Microsoft strategy - as many of them do - then Teams integration is an important factor to consider. This is where Mitel's suite of applications come into their own. Not only can Mitel's applications form the backbone of the universities' communication infrastructure, but they can also be integrated with Microsoft Teams to further enhance the learning environment. This tried and tested Teams integration provides real choice when making the best technology decisions for the university.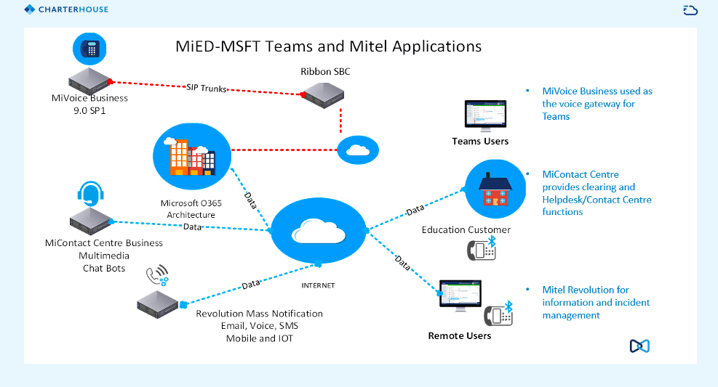 Don't underestimate the impact on student wellbeing 
The Mitel contact centre isn't just for clearing. Universities have a duty of care to their students, with student wellbeing being an ongoing issue for a number of universities. While student wellbeing is a consideration for all universities, some are on the radar for issues with student mental health, and have set up various suicide prevention schemes to support students in crisis. Mitel already supports a number of customers in other industries, such as charities and the NHS, by providing helpline services. The university contact centre can also be set up to provide the kind of support needed to look after students in challenging times, giving them access to help and assistance for everything from practical information, to health and safety, to mental health support.
Mass communication made easy
This communication infrastructure can also be used in other areas, not only supporting and fulfilling the day to day running of the university but also offering mass communication via Mitel's Mass Notification application – Revolution - and the ability to interact via social media channels. Keeping students informed of important messages via multiple channels, has never been more important - especially right now, as so many students are currently being forced to isolate in halls of residence.
Cloud equals agility
The only way for universities to react quickly and efficiently, deploying what they need, when they need it, is to adopt a cloud first strategy. They can be more agile, scale more quickly, and expand and contract according to demand at different times in the year. Charterhouse's Fusion portfolio offers the choice of public, private and hybrid cloud deployments. I personally see the hybrid cloud solution as being particularly effective for universities - it caters for integration into legacy equipment and infrastructure which may not be possible to immediately remove, whilst providing all the benefits of agility, speed, security and the commercial flexibility of cloud, simultaneously.
Charterhouse supplier of choice
Charterhouse can offer very attractive commercial models to meet CAPEX and OPEX budgets. This extends over the consumption of UC into other areas and can provide as-a-service solutions across LAN and security. To find out more about how we can support your university technology strategy, speak to our public sector specialists.
To find out more, join us on Thursday 4th February at 2pm for our Higher Education Virtual Roundtable where, together with Education specialists from our partners Mitel and Extreme, we will discuss how, with the help of technology, we can provide our students with stability through these challenging times.