Roundtable: How Leaders in Unified Collaboration are Succeeding
Anywhere, Anytime.
Date: Thursday 1st July, 2021
Time: 4:30pm - 6:30pm
Last year, office working changed to home working. This year, home working is morphing into hybrid working. Next year, who knows what change will bring? What is certain, is that your organisation needs to be change-ready. And, whether your staff and customers are based locally or internationally, they need to stay connected and collaborating, with a consistent experience for all.
At this roundtable, we examine how organisations can better integrate voice, video, chat, contact centres, into one scalable, secure and reliable cloud communications platform that improves productivity.
Key questions to be covered include:
How to develop a modern communications framework with the adaptability to provide a seamless working environment for all employees in any conditions.

How to overcome the

security and productivity headaches created by stopgap communication solutions introduced in early 2020 in the scramble to remote working

How to measure and improve employee productivity in hybrid work conditions with real world examples
---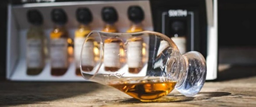 Join our Virtual Whisky tasting Masterclass
Register Now!
---