Roundtable: Cloud Networking, Application Performance and the Infinite Enterprise
Date: Thursday 25th November 2021
Time: 4:30pm - 6:30pm
Many organisations are finding that applications absorb huge proportions of an enterprise's IT spend, but the success of these applications is completely reliant on the performance of the underlying networks upon which they reside.

Join us and your peers at this roundtable to discuss how to robustly address the emerging and evolving area of Cloud Networking & Connectivity in our app driven world and how to ensure end user experience and application performance.

While the questions to be discussed will be determined by the group, good examples of the kind of questions we can expect include:
How to improve visibility of your end-to-end App performance across the network, including accessibility and latency?

How to improve your app performance and end-user experience, no matter where the apps are host or your users located?

How to safeguard your app investment by quickly detecting and fixing problems across your LAN or SD WAN?

How to adopt cloud managed networks, to maximise network performance and minimize migration risks?
As with all our roundtables, you will get the most value from the open discussion with your peers. For this reason, there will be no PowerPoints or formal presentations.
In association with:

---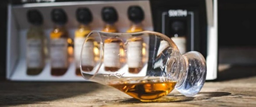 Join our Virtual Whisky tasting Masterclass
Following the discussion, please join us for a relaxed whisky tasting experience. We will send you a hand-picked selection of fine whisky in advance, so please register asap to ensure you receive your whisky delivery in plenty of time. If you don't drink Whisky, then we have alternatives, such as Gin. If you don't drink at all, then you can attend the roundtable and skip the drinks.
Register Now!
---